Shin-Etsu Polymer's packaging and carrier materials are designed for protecting silicon wafers and devices from particle contamination during transportation. Our packaging materials are comprehensively designed using the right combination of materials selection, precision compound, and analysis technologies.
Wafer Cases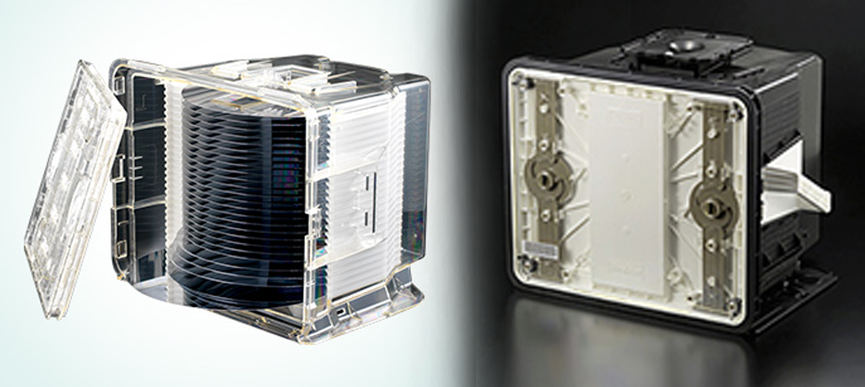 Shin-Etsu Polymer has two kinds of front opening shipping boxes (FOSBs) used for transporting wafers between wafer and device manufacturers. We also make front opening unified pods (FOUPs) for device makers' manufacturing processes. Shin-Etsu Polymer's FOSBs and FOUPs are known for their high quality and reliability in the global semiconductor industry. Click here for details
Shin-Etsu Lightframe®
Shin-Etsu Lightframe® reduces conductive particles by using metal tape frame and improves the reliability for packages. Click here for details.
Shin-Etsu Lightcassette
Shin-Etsu Lightcasstte is an exclusive cassette developed for Shin-Etsu Lightframe®. Shin-Etsu Lightcasstte conbined with Shin-Etsu Lightframe® can reduces conductive particles and improves the reliability for packages. Click here for details.
Embossed Carrier Tape & Top Cover Tape
Carrier tape is an essential packing material for automated mounting of electronic components. In addition to preserving products, it also has anti-static properties and high dimension accuracy.
We are able to handle a wide variety of applications from minute electronic device below 0402 size to 72mm width for large components.
Chip Fixture Plates (KSB/HSB)
With experience and expertise in micro-perforation and flatness precision technology, Shin-Etsu Polymer develops carrier plates (called "KSPs") for the electrode process in ceramic capacitors.
Shin-Etsu Polymer also manufactures the Shin-Etsu HSP, which enables users to select a level of adhesiveness for holding and transporting electronic components and semiconductor devices.